There's a good chance you have many financial needs
Our process is designed to accurately and efficiently provide a complete risk analysis, income goals, tax considerations, estate considerations, integrated planning, investment planning and more. With so many things dependent on the health of your finances, it's vital to make the right financial choices. Holistic, comprehensive wealth management is an ideal goal—the perfect harmony of integrated financial planning, extensive advisor/client communication and smart financial decisions.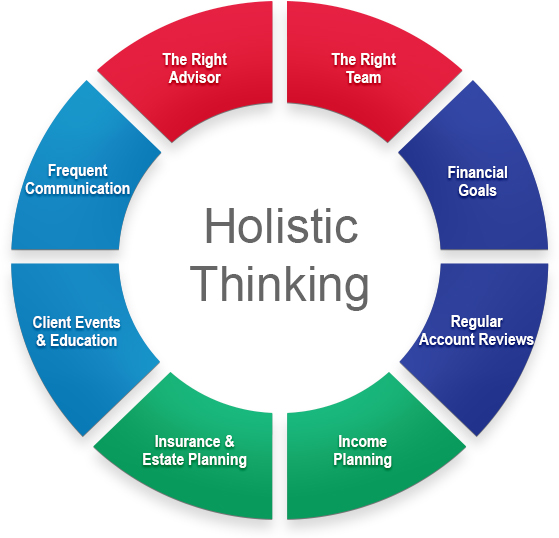 The Right Advisor
Our advisors are required by law to be fiduciaries, and are here to be your comprehensive guide in your financial journey.
Frequent Communication
We provide extensive communication, including monthly custodial statements, quarterly performance reports, emails, newsletters, and more. We are always just a phone call away.
Client Events & Education
We offer an extensive array of educational materials. We like to hold frequent educational events for our clients as well because we believe that education plays a key component in the ongoing management of your finances.
Insurance & Estate Planning
Comprehensive wealth management often involves insurance, tax and/or legal advice. We also offer separate insurance services to our clients. This can include life insurance and annuities or helping you determine tax and/or legal direction, in conjunction with your attorney or CPA.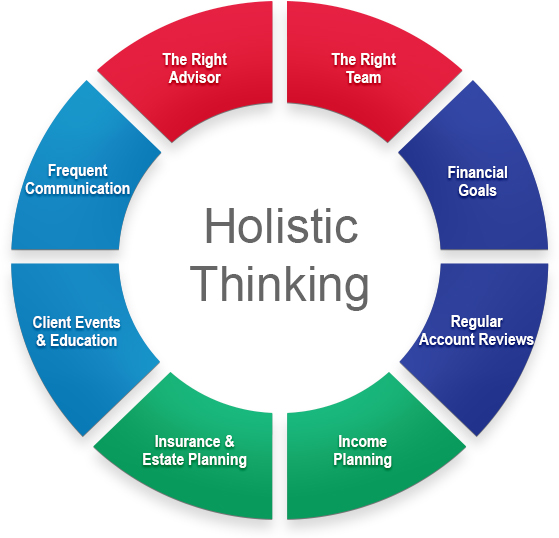 The Right Team
We are focused on ensuring you get a team based approach, providing the required expertise from any area that may be needed, including tax, legal, investment and insurance.
Financial Goals
The first step is meeting with our advisors, who will take the time to review your financial goals and objectives. This is a critical step in determining what needs to be accomplished with your finances.
Regular Account Reviews
We believe in regular account reviews with our clients. While we are required to meet annually at minimum, we are always here when you need us.
Income Planning
Many retirees just withdraw what they need from their savings to meet their current living expenses without considering that they'll need to make these savings last for the rest of their lives. We develop a comprehensive Retirement Income solution, to make sure you do not out live your savings and are able to leave a legacy for your beneficiaries.